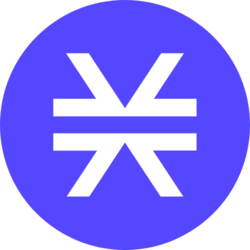 Stacks
(STX)
Market Cap
$2,484,409,082.00
24h High / 24h Low
$2.5200 / $2.3000
Circulating Supply:
1,052,561,461.69
Total Supply:
1,818,000,000.00
What is Stacks
(STX)
Blockstacks (STX) defines itself as a decentralized computing network that provides a full stack alternative to traditional cloud computing for building secure, private applications. Per its white paper, Stacks blockchain is designed to scale decentralized applications, and incentivize developers to build high quality applications on the network.
Blockstacks' native token, STX, is consumed as 'fuel' to register digital assets on the network and to publish or execute smart contracts, among other functions on the network. Photos, messages, health records or any kind of data is encrypted by default on Blockstacks. Applications has no permission to see, access, or track the user activity.
Blockstack's smart contracts are based on their programming language Clarity and its network uses a hybrid consensus mechanism called Proof of Transfer (PoX). This consensus mechanism uses both miners and 'stackers'. Miners log transactions whereas stackers keep a copy of the blockchain, signaling which fork to mine on.
Read more