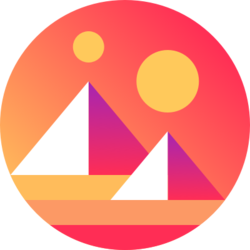 Decentraland
(MANA)
Market Cap
$344,333,133.00
24h High / 24h Low
$0.2638 / $0.2383
Circulating Supply:
1,327,372,145.99
Total Supply:
2,194,797,227.32
What is Decentraland
(MANA)
Decentraland (MANA) is an Ethereum based, decentralized virtual reality platform. Users can create and own contents and applications in the Decentraland's virtual environment. Moreover, users not only create or own their virtual contents, they can earn money from those by selling to others.
On Decentraland's virtual world, Lands are controlled by the community. Users are the owners of those virtual, blockchain based 33 x 33 feet parcels, and the height of the building is not limited on those parcels. Parcel owners can build what they want. Lands, as the project white paper states, are non fungible, transferable and scarce digital tokens that has Ethereum's ERC 721 standard.
Users can buy Lands by spending the platform's native Ethereum based ERC 20 token, MANA. Furthermore, users can upload and share their 3D models that are created by 3D software such as SketchUp, Blender or Maya. Decentraland's governance is not controlled by a central authority.
Read more